G-SHOCK
Casio G-Shock G-STEEL GST-B100X-1A

G-shock adalah icon simbolik dari jam tangan Casio. Hampir semua orang pasti mengetahui dan mengenal atau bahkan memiliki jam Casio G-shock. Jika Anda sedang berpikir untuk mendapatkan salah satu Jam Casio G-shock, maka Anda telah melakukan sesuatu yang benar.
Pastikan Anda membeli Jam Casio Original dan bergaransi resmi di sini.
Availability:
Out of stock
Rp 14.500.000
Out of stock
| | |
| --- | --- |
| Weight | 0,3 kg |
| Warna | Black |
| Bahan Tali | Resin |
| Fitur | Bezel Karbon, Mobile Link, Penghemat Daya, Tough Solar |
| Varian | G-Steel Series |
| Berat Bersih | 101 gram |
| Lebar Bezel (kiri - kanan) | 53 mm |
| Bahan Kaca | Sapphire |
| Garansi | 2 Tahun PT GAP (GARANSI RESMI) |
| Power | Baterai Solar Power |
| Water Resistant | 200 Meter |
Melanjutkan popularitas dari seri g-shock G-Steel yang membidik pasar kelas menengah, kali ini Casio melemparkan produk dengan kode GST-B100X-1A yang merupakan varian premium untuk seri G-shock G-Steel yang telah dilengkapi dengan fitur bluetooth. Kode B sendiri dimaksudkan untuk membedakannya dengan seri standard G-steel lainnya yang belum memiliki fitur bluetooth. Seri Casio G-shock G-Steel GST-B100X-1A ini sendiri merupakan seri G-Steel yang menganut format full analog, berbeda dengan seri-seri pendahulunya yang selalu diberikan jatah digital yang dikombinasikan dengan format analog.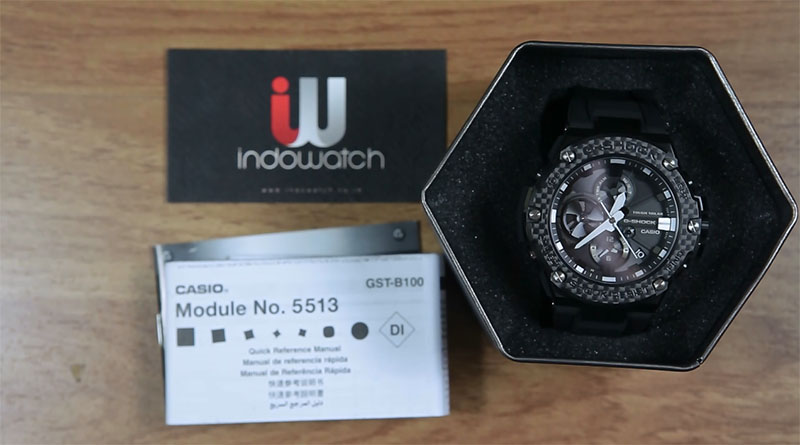 Apa yang membuat jam tangan G-shock GST-B100X-1A ini layak disebut sebagai salah satu jam premium dari G-shock ? Tidak lain salah satunya adalah penggunaan material yang sarat tekhnologi dan sangat ringan yaitu karbon pada bagian bezel. Penggunaan material karbon memang selalu identik dengan kwalitas produk yang lebih ringan, kuat dan tentu saja gagah. Namun hal tersebut juga berimbas pada harga produk yang semakin mahal seperti yang terjadi pada seri GST-B100X-1A ini.
Penggunaan bezel dengan material karbon ini sendiri diklaim lebih tahan terhadap goresan dan juga lebih ringan dibandingkan dengan penggunaan steel. Hal ini tentu saja berdampak pada semakin tingginya kwalitas anti getar dan juga bobot total yang semakin ringan.
SMARTPHONE LINK FUNCTIONS ( BLUETOOTH )
Seri Casio G-shock GST-B100X-1A ini merupakan salah satu dari beberapa varian G-steel terbaru dengan fitur smartphone link functions ( bluetooth ) yang diluncurkan oleh casio pada akhir tahun 2017. Fitur ini memungkinkan Anda untuk mengontrol beberapa mode pada jam tangan ini melalui smartphone Anda. Jika kita lihat pada spesifikasi yang dirilis oleh casio, fitur smartphone link functions ( bluetooth ) ini dapat mengontrol penyesuaian waktu, alarm, timer, penyesuaian jarum jam dan perubahan time zone.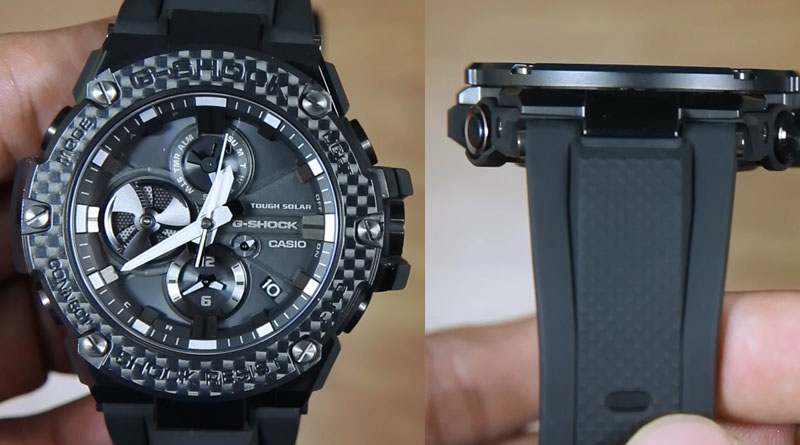 Sapphire Crystal
Salah satu keunggulan dari Casio G-shock GST-B100X-1A adalah penggunaan kaca sapphire yang juga anti refleksi cahaya yang memantul pada kaca jam ini. Tentu saja dengan penggunaan sapphire ini akan memberikan ketahanan yang lebih terhadap goresan.
Saat disandingkan dengan pergelangan tangan, jam casio g-shock GST-B100X-1A ini terasa sangat luar biasa. jam ini terlihat sangat unik, mewah dan juga elegan. Jam ini memang memiliki aura yang berbeda dengan jam tangan g-shock lainnya karena merupakan jam pertama dari casio yang menggunakan bezel berbahan karbon ( 2017 ).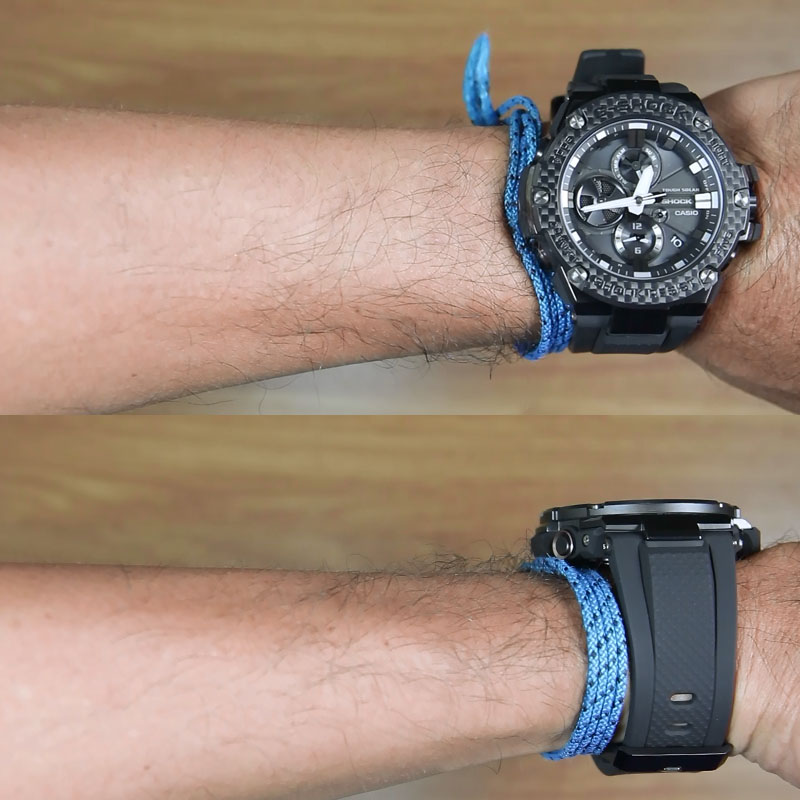 From G-SHOCK, the watch that always strives for toughness, the first G-STEEL lineup models to offer chronograph performance in analog format, along with a carbon bezel that is the product of state-of-the-art materials and innovative technology.
The bezels of this model has a highly fashionable design, and is made of lightweight yet very rigid carbon material. A combination of state-ofthe-art Toray Industries TORAYCA®*1 and NANOALLOY®*2 results in a bezel with outstanding shock resistance characteristics. The distinctive pattern produced by the carbon materials provides a stylish look as well. Highly scratch resistance, clear sapphire glass is used for the crystal to enhance readability and appearance.
Smartphone Link Functions
(about 300 World Time cities, alarm, timer, hand alignment correction, home city time swapping, phone finder)
Battery level indicator
New layer guard structure
Tough Solar
Dual dial world time (Simultaneous indication of current times in two locations.)
High-brightness LED light
Sapphire crystal
Ion plated case
*1 TORAYCA®: High-performance carbon fiber material by Toray Industries is used in a wide range of applications, including: aerospace, high-pressure vessels, wind power generation, automobiles, bicycles, golf club shafts, fishing rods, and more.
*2 NANOALLOY®: Original Toray Industries nanometer structure control technology makes it possible to combine multiple polymers on a nano-metric scale (one billionth of a meter) for performance that is far superior to previous types of materials. This polymeric material enables high performance and high function that was previously not possible with standard micron order (one millionth of a meter) alloys.
 Spesifikasi Tehknik
Case / bezel material: Resin / Stainless steel
Resin Band
Neobrite
Screw Lock Crown
Shock Resistant
Carbon fiber bezel
Sapphire Glass with non-reflective coating
200-meter water resistance
Solar powered
LED light (Super Illuminator)
Afterglow
Mobile link (Wireless linking using Bluetooth®)
Dual time (Home city time swapping)
1-second stopwatch
Measuring capacity: 23:59'59
Measuring mode: split time
Countdown timer
Measuring unit: 1 second
Countdown range: 24 hours
Countdown start time setting range: 1 minute to 24 hours (1-minute increments and 1-hour increments)
Daily alarm
Battery level indicator
Power Saving (hands stop to save power when the watch is left in the dark)
Full auto-calendar (to year 2099)
Date display
Day indicator
Regular timekeeping
Analog: 3 hands (hour, minute (hand moves every 10 seconds), second),
3 dials (dual time hour and minute, dual time 24-hour, day)
Accuracy: ±15 seconds per month (with no mobile link function)
Approx. battery operating time:
5 months on rechargeable battery (operation period with normal use without exposure to light after charge)
24 months on rechargeable battery (operation period when stored in total darkness with the power save function on after full charge)
Size of case : 58.1×53.8×14.1mm
Total weight : 101g