Product Description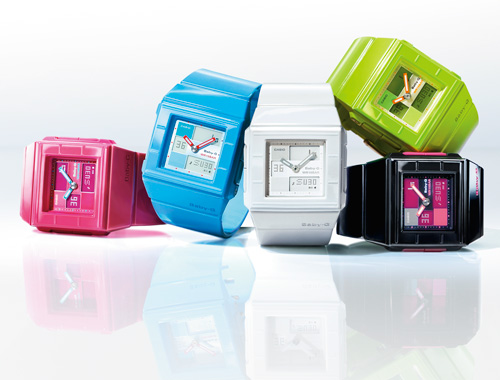 Baby-G untuk Para Pelari
Model-model Baby-G ini telah dirancang secara khusus dengan pelari. Stopwatch ini dilengkapi dengan memori hingga 60 lap, dan desain case besar memungkinkan mudah membaca waktu berlalu dan waktu putaran sementara berjalan. Fungsi Auto Cahaya otomatis menerangi layar setiap kali melihat secara miring terhadap wajah untuk membaca. Semuanya dilindungi oleh Baby-G BG-6903 resistensi shock dan tahan air 200 meter. The Baby-G untuk pelari tersedia dalam pilihan warna yang telah dipilih untuk koordinasi dengan olahraga dan sepatu lari.
 Spesifikasi Tehknik
Baby-G Makes It Better
• Outstanding shock resistance stands up to dropping and rough treatment.
• Water resistance allows use when swimming and snorkeling.
• Illumination for easy reading in the dark.
Mineral Glass
Shock Resistant
200-meter water resistance
Case / bezel material: Resin
Resin Band
Electro-luminescent backlight
Auto light switch, selectable illumination duration, afterglow
Dual time
1/100-second stopwatch
Measuring capacity: 99:59'59.99″
Measuring modes: Elapsed time, split time, 1st-2nd place times
Memory capacity: Up to 60 records (used by lap/split time records and log title screens)
Countdown timer
Measuring unit: 1 second
Countdown range: 24 hours
Countdown start time setting range: 1 minute to 24 hours (1-minute increments and 1-hour increments)
Others: Auto-repeat
3 multi-function alarms (with 1 snooze alarm)
Hourly time signal
Full auto-calendar (to year 2099)
12/24-hour format
Button operation tone on/off
Regular timekeeping
Digital: Hour, minute, second, am/pm, month, date, day, daylight saving on/off
Accuracy: ±30 seconds per month
Approx. battery life: 7 years on CR2016
Size of case: 49.1 × 45 × 13.5 mm
Total weight: 47 g
EL:White